Here are our best tips for Rock Hunting!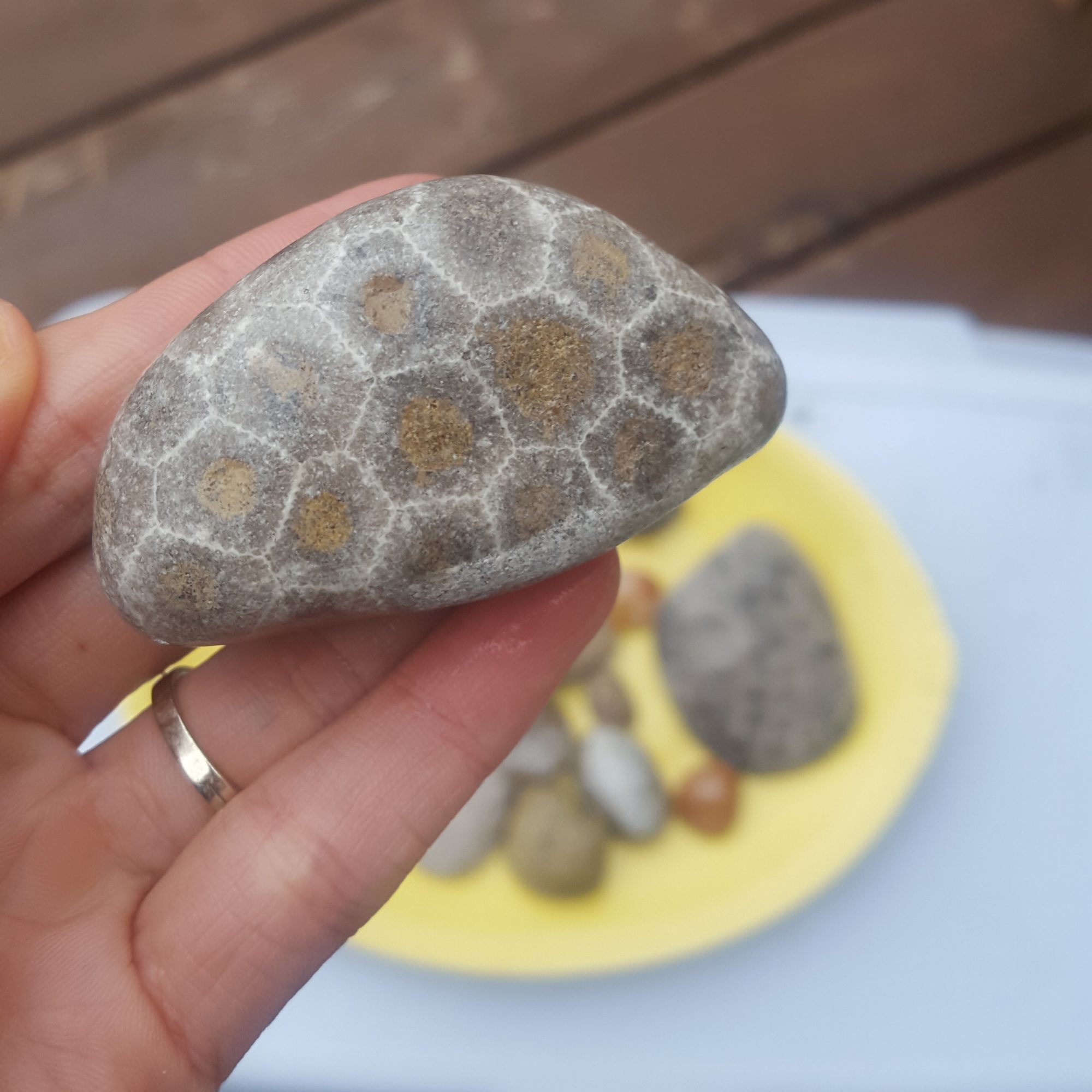 The shores of Lake Michigan offer a hidden experience which can be both thrilling and meditative. If you're looking for beach glass, colorful lake rocks or Petoskey Stones along the shoreline of Lake Michigan, you've come to the right place. There's no shortage of places in Leelanau and Grand Traverse County to hunt for Petoskey Stones, but you do have to know how to look! If you want to see Petoskey Stones the size of boulders, we recommend taking PlayNorth Watersports LED stand-up paddle boards or jet ski rentals to the Manitou Islands and doing some sight-seeing along the shoreline. Ready to do some beach combing on the shores of Lake Michigan for Michigan's official state stone? Share the joy of this unique pastime with some rock hunting tips from our local Petoskey Stone Recovery Specialist:
What are Petoskey Stones – Technically speaking, this Michigan State "Stone" is actually a fossilized rugose coral, Hexagonaria percarinata. The only important part of that name is the "Hex" or "six-sided" which describes their unique pattern. These unique fossilized stones were formed when glaciers dug up the seabed something like 400 million years ago (give or take) and deposited these fragments of coral which eventually fossilized.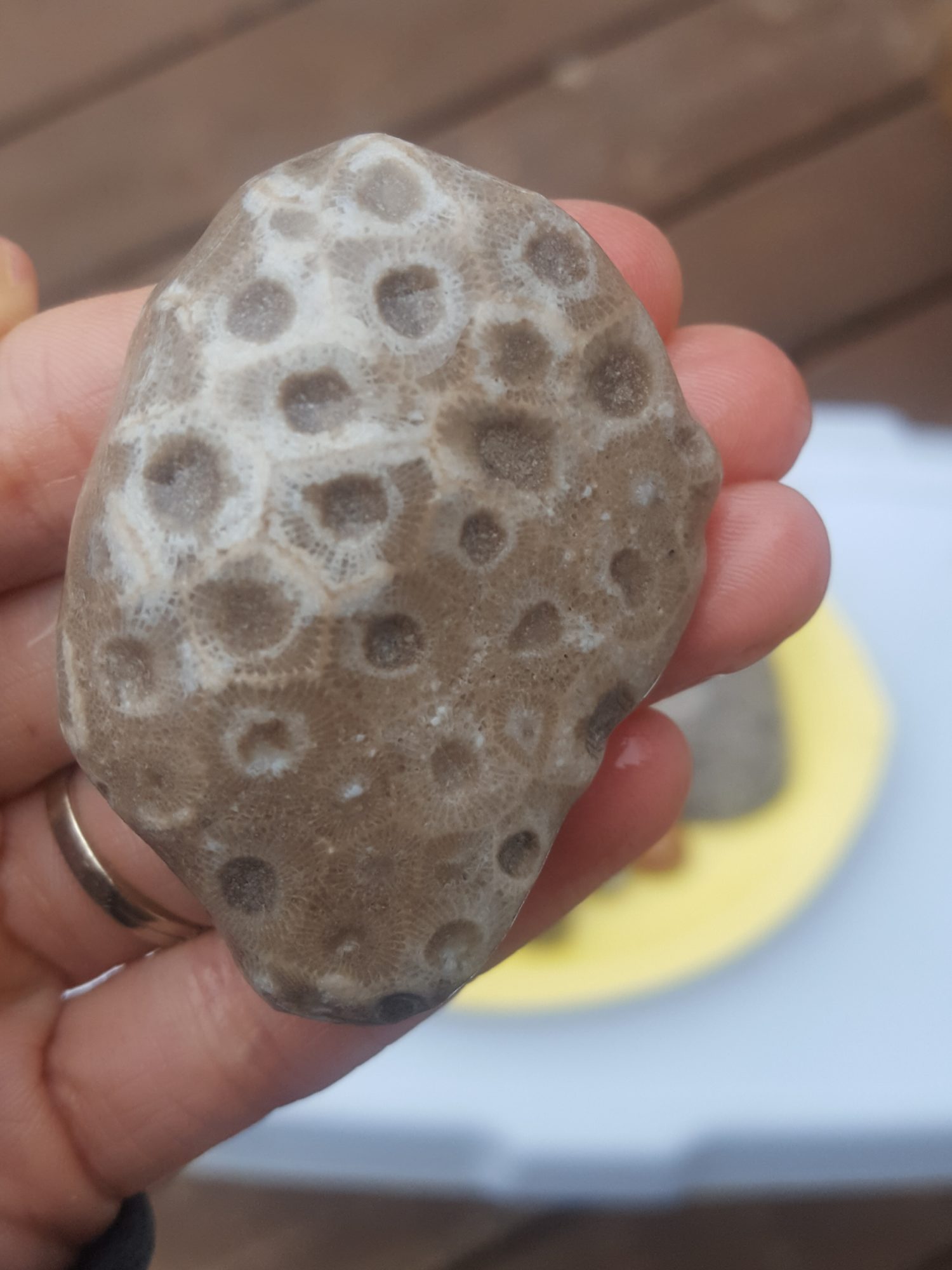 Where can I find them – The best places we have found some awesome stones are between Van's Beach and Thompson St. Beach in Leland. Along any shoreline between Good Harbor Beach and Glen Arbor, also the west shore of Northport in Leelanau County. The stone to the left was found north of Little Traverse Lake near the Good Harbor Bay Trail. Great spots can also be found around Sleeping Bear Dunes National Lakeshore along the Leelanau Peninsula.
Catch and release vs. collecting – National Parks are off-limits for rock collecting, so in some cases you may look, but you can't take home! Always check beforehand to see where you can not only find and explore, but also collect stones to add to your rock collection back home.
What to look for – Petoskey Stones can very closely resemble an ordinary limestone when dry, that is a faded gray/white. Check out the first picture of stones we found rock hunting in Leelanau and Traverse City, and you'll see that a dry stone is actually a Petoskey Stone hidden in plain sight!
Stay close to the waves – When wet, the pattern can be revealed. So the best places to look for stones are right where the waves end as they come in. These stones are moist and most recently deposited.
"Think of the waves as delivery trucks bringing fresh produce to the market. The bigger the trucks in size and number, the more produce that will be available."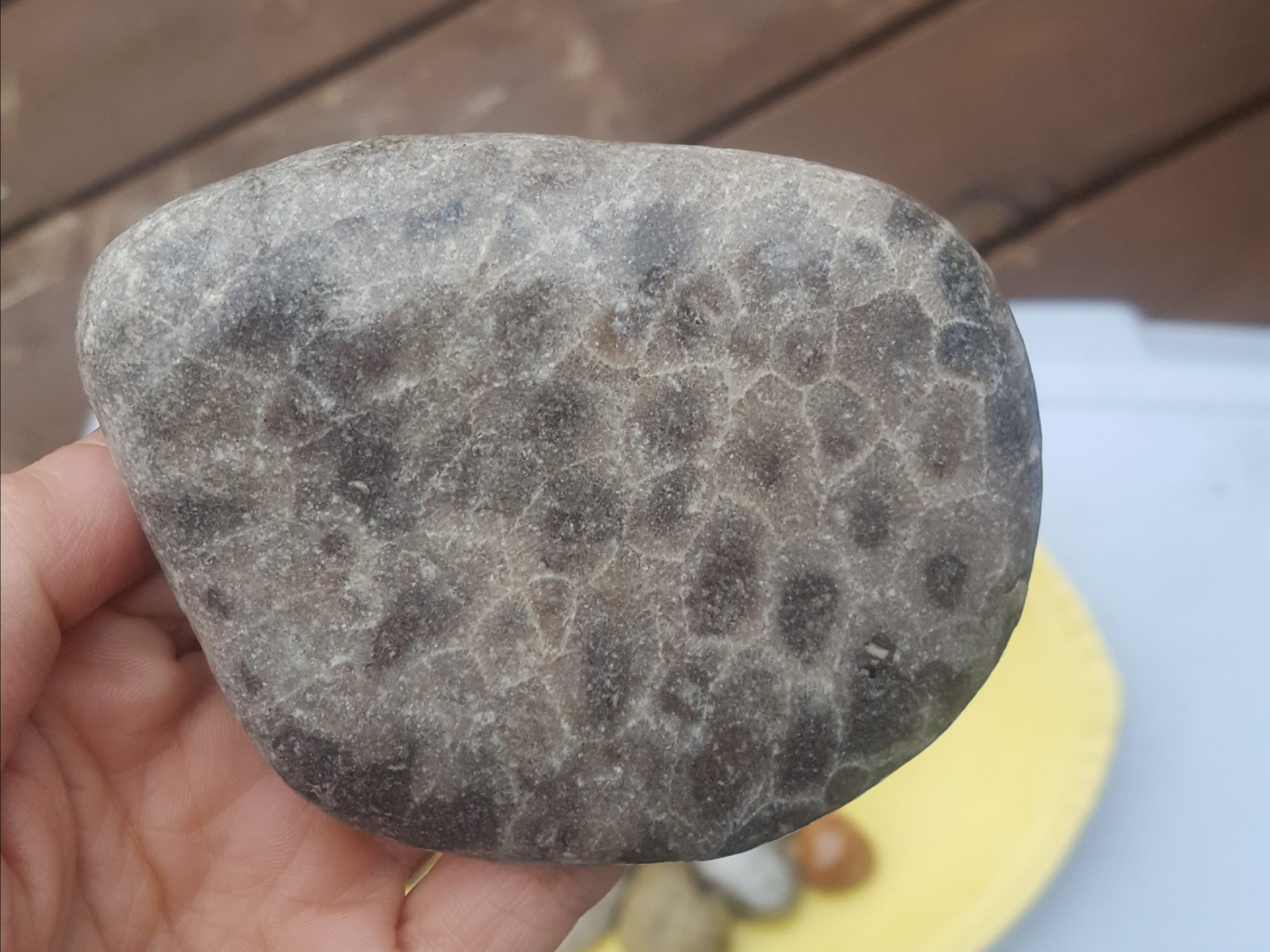 There are many things to discover on the shores of Lake Michigan besides fossilized corals (and plenty of things to do on the Leelanau Peninsula! Read up on our Vacation Guide!) Head over to our other posts to read on everything from mystical driftwood formations to unique rock collector finds, to the magic of Beach Glass.
Fellow rock collectors, please keep in mind that these stones are part of our natural landscape in Michigan! Be a friend to our environment and keep our last tip in mind while you enjoy the beauty of Northern Michigan. Want to learn about more fossils and minerals found in the Grand Traverse and Leelanau areas in Northern Michigan? Check out MyNorth's article on why Michigan Rock Hunting is the Best on Earth for more tips and fossils to add to your rock collection!
These stones are a limited resource; please exercise goodwill and be mindful of the number of stones you collect during your visits. If you collect too many, federal law places your findings under commercial use! All national parks are off-limits for rock collecting. Always leave some for future generations to enjoy as we have.
Thank you!