Arm yourself with these simple sunset photography tips and head to our favorite place to see the sunset at Sleeping Bear Dunes! There are so many places to see the sunset in Northern Michigan that it's hard to pick a favorite, but this local spot is one of the best. Pack a picnic and make a trip to Pierce Stocking Drive, one of the most scenic drives in the world! Check out our tips below for finding this iconic spot to see the sunset on the Leelanau Peninsula!
Take your sunset photos during Golden Hour! Set your alarm ahead of time for Golden Hour!
There are two Golden Hours every day: The first hour of light after sunrise, and the last hour before sunset. The Golden hour refers to the effect of your photography being bathed in a golden glow – it gives a warm and inviting look and makes the pinks, reds, purples, and orange hues stand out.
Set an alarm and get there early. If you plan on hiking through a trail or woods to a secluded area, plan accordingly.
Golden hour happens faster in the summer. During the summertime, the sun rises almost straight up from the horizon. Because of this, the sun has a shorter distance to travel, and the night-to-day transitions happen fairly fast. The Golden Hour is longer during the winter season.
The sunset can change drastically from minute to minute. Be sure to take plenty of photos! Since golden hour goes by pretty fast in the summer, the clouds and colors can drastically change in minutes.
Where Can You Watch the Sunset at Sleeping Bear Dunes?
Pierce Stocking Drive is a Must-Do Activity in Northern Michigan! It's worth it to see the sunset at the Sleeping Bear Dunes from this famous spot on the Sleeping Bear Dunes National Lakeshore. Pierce Stocking is a perfect day trip from Traverse City and it's one of the best places to watch the sunset in Michigan! Follow the tips below to find it!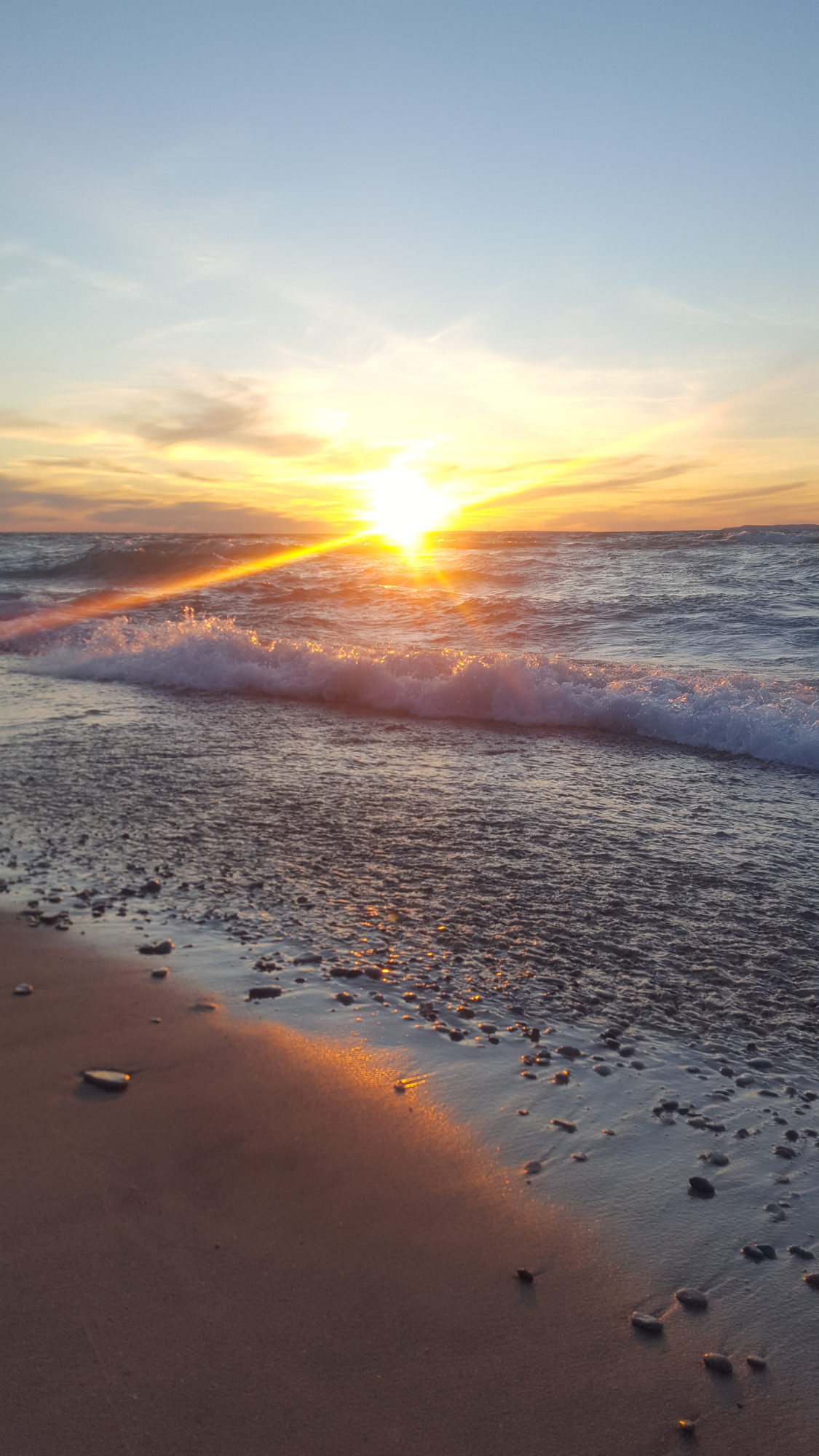 Pierce Stocking Drive is located in the Sleeping Bear Dunes National Lakeshore, near Empire, Michigan. This iconic sunset spot in Michigan is located on the Leelanau Peninsula.
Drive past the first 4 or 5 spots until you reach the Lake Michigan Overlook.
You'll end up at the top of the sand dune, where you can settle in with a blanket and watch one of the most beautiful sunsets in Michigan!
Be sure to get there early because parking can be crowded during peak season. Don't miss out!
For more information about planning your Northern Michigan vacation and learning about local events and attractions, visit the Traverse City Convention and Visitors Bureau.
Looking for more places to see the sunset on the Leelanau Peninsula? Check out this tried and true list by MyNorth.