Water Trampoline Rentals in Leelanau and Traverse City – Do's and Don'ts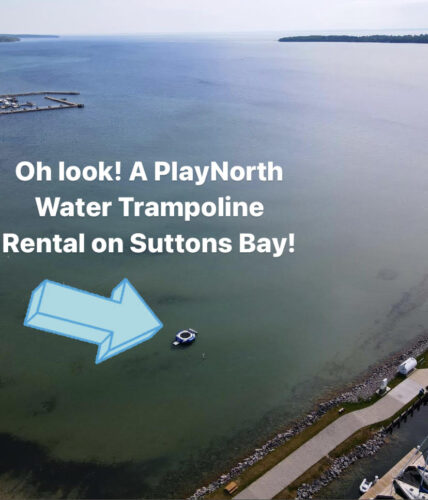 Summer is here! For a lot of families who visit Leelanau County and Traverse City, that means booking a water trampoline rental for the annual family party. Our goal at PlayNorth Watersports is to provide hours of bouncing fun for the kids (and adults!) freeing you up for some R&R on your waterfront. So, let's talk about Water Trampoline Rentals! There is one reason for renting a Water Trampoline – BOUNCE!
Some models commonly used by rental companies just don't have it. Sure, those models are cheaper and easier to install, so many companies choose lower quality brands…
…the problem being you often end up with a glorified floating raft.
It's all about the BOUNCE, guys, and not every model has it. Our Aquaglide Supertramp 17' Water Trampolines have more parts, are heavier, & require hard work by our PlayNorth staff – but we do it because we KNOW it means more fun for you. And here's why knowing what you're paying for is so important!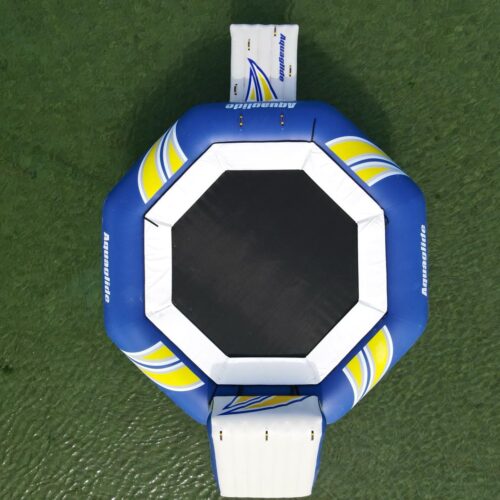 1. It has a frame! Unlike the water trampolines offered by most rental companies our product incorporates an aluminum frame to maximize the stiffness of the bounce platform. Frameless designs are at the mercy of temperature fluctuations (Hello MI weather!) due to the tube shrinking.
A 90 degree day will give you a firm jump surface, but mid 70's will give you a limper surface. A frame = tension, which means better bounce. It's worth the work for the fun!
2. Octagon Design > Circular design
A circular design concentrates the bounce only around the very center.
That's a no from us. Octagon Design wins here because it provides a more uniform bounce over the entire jump surface, making the sweet spot bigger, and making your trampoline rental more worthwhile.
3. Larger Jump Surface!
The SuperTramp 17 – 17'W x 36"H allows for a 12'9 jump surface. Our models offer the largest bounce surface in the area. It's a great size while not taking up a lot of waterfront space, and ideal for 3-4 users.
The next time you start searching for a water trampoline rental near Lake Leelanau, Suttons Bay, or Northport, ask questions about the equipment when you call to ensure you'll be happy with your rental. That's our goal and our expertise!
Now, on to the more important question….
Do our rentals include a slide? YES!
PlayNorth Watersports delivers water trampoline rentals all over Leelanau and Grand Traverse, including Lake Leelanau, Suttons Bay, Torch Lake, Spider Lake, Glen Lake, Long Lake, and the list goes on! Call us today to book at (231) 357-3790, or book online 24/7! For more information on our water trampoline rentals in Leelanau and Grand Traverse County, Contact Us or visit PlayNorth Watersports. See you on the Lake!